Air Conditioning Repair in Peekskill, Yonkers, & Nearby
Reliable AC repairs & 24/7 emergency services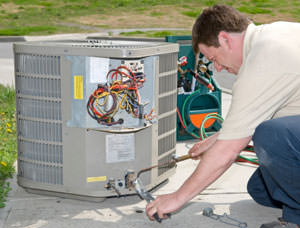 Contact County Comfort Home Solutions about our annual maintenance contract and 24/7 emergency repairs today!
Air conditioners are amazing machines. They remove heat and moisture from your living space and manage to dump it outside, even on blazing hot days. Despite regular servicing and conscientious homeowner maintenance, the day will come when your system will need a repair technician.
Don't wait until you have an emergency to decide who to call. Get to know us now by scheduling an annual AC tune-up. In addition to catching problems before they require costly repairs, we can get to know your equipment and be ready to cope with repairs if and when they do occur.
Schedule a free AC repair estimate by calling 1-844-691-0771 or clicking below to contact us online. We offer repairs and 24/7 emergency services throughout New York in Ossining, Peekskill, Yonkers, and nearby.
Emergency air conditioning repairs
Need emergency service for your heating and cooling unit? We have a rapid response HVAC team at the ready to provide heating and air conditioning repairs for after-hours emergencies. Instead of waiting hours on end for the help you need, it is our goal to get your system operational quickly and efficiently.
Before you call the HVAC repair technician
Check the thermostat to be sure it's set on "cool" for summertime operation and that the setting is below the temperature of the room.
Clean the contacts on a non-digital thermostat.
Check the circuit breaker in the electrical panel to be sure it's set in the on position. If you have fuses, check for a blown fuse.
Is there power to the air handler and compressor? Check that all switches are in the on position.
Is the filter clean? A blocked filter can cause an air conditioning system to shut down due to inadequate airflow. Similarly, are the air intake grills open and clear of obstructions?
Is the grill in front of the condensing section clear of debris? If not, sweep the area thoroughly.
Schedule a free AC repair estimate in Westchester County
We are fully trained and prepared to repair your AC unit. Be sure to contact us today if after running through the above checklist your unit is still having trouble. We can fix all kinds of problems, including:
Compressor issues
Circuit breaker trips
Fan problems
Blower problems
Condensate leaks
Ice on lines
Thermostat problems
Inefficient performance
Unit runs constantly
We are the local choice for air conditioning repairs. We repair air conditioners throughout Westchester County including Peekskill, Yonkers, Ossining, Somers, Yorktown Heights, Verplanck, White Plains, Cortlandt Manor, Croton On Hudson, Bedford, and more!
Looking for a price? Get a no cost, no obligation free estimate.