Westchester County Solar Panel Installer
How does solar power work?
Solar power is energy from the sun that is converted into thermal or electrical energy. The technology used to harness the sun's power for home use is photovoltaics (PV). Panels are installed on rooftops or in fields. When the sun shines onto the solar panel, photons from the sunlight are absorbed by the cells in the panel, which creates an electric field across the layers and causes electricity to flow.
Why switch to solar?
Are you considering going solar? The cost of switching to solar has dropped 70% over the past decade, while the average utility bill has increased by 15%. The drop in price, along with the many tax credits, rebates, and other financial incentives available to homeowners, has made solar an attractive option now more than ever!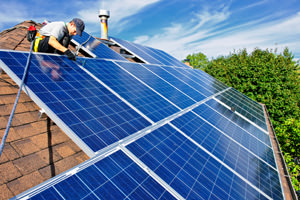 Benefits of switching to solar:
Lower energy bills
Avoid rising energy costs
Increase your home's property value
Reduce your carbon footprint
Become more self-sufficient by owning your energy supply
County Comfort Home Solutions is a trusted New York solar installation company. We are passionate about clean energy, helping curb climate change, helping Westchester County residents save money, and providing resiliency with backup power options for their home's energy needs. We have a team of dedicated and qualified professionals ready to help you with everything solar. We can explain the available incentives and how to get the most cost savings possible.
Ready to go solar?
We provide solar energy installation services through our sister company, Astrawatt Solar.
Astrawatt Solar's mission is to provide better solar experiences — that starts with making it easy for you to go solar.
Click the link below to visit our solar provider webpage to schedule a free solar consultation.
Maximum home comfort & energy savings start here!
For optimum energy savings, you need to reduce (energy consumption) before you produce (solar energy). Considering solar energy as one element in a larger home energy-saving plan that includes improving your attic insulation, air sealing, energy-efficient water heating, and top-performing heating and cooling systems is essential. County Comfort Home Solutions can help!
Get a more comfortable and energy-efficient home by scheduling a free, no-obligation estimate for attic insulation, air sealing, heating, or air conditioning services.
Looking for a price? Get a no cost, no obligation free estimate.