Tankless Water Heater Installation in Westchester County, NY
On-demand water heaters are small in size but can offer big energy savings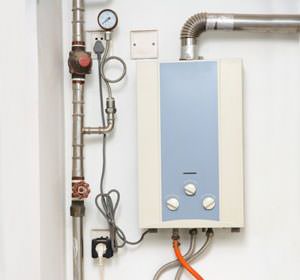 Compact and efficient: A tankless water heater can be mounted just about anywhere - even in the attic. Gas-fired models must have a flue to exhaust combustion products to the outside.
A tankless water heater is sometimes referred to as an instant or on-demand water heater. Both of these names say something about how this appliance works: Water is heated instantaneously instead of being stored in a tank.
In fact, heating energy is only used when there's a demand for hot water, as someone opens a hot water tap or turns on a washing machine.
Tankless water heaters are used extensively in Europe, where energy costs are much higher than they are here. Significant savings are possible if you switch from a tank-type water heater to a tankless model, but these savings depend on how and when hot water is used in your house.
Contact us today for your free quote! We service Chappaqua, Tarrytown, West Harrison, Mount Kisco, Dobbs Ferry, and throughout Westchester County.
Tankless Water Heater PROs & CONs
PROS:
Energy Efficiency: A tankless model can cut water heating expenses by as much as 45%, depending on usage patterns.
Endless hot water: Your tankless water heater will maintain the flow of hot water as long as the tap is open.
Compact size: You have more installation options than are possible with a larger tank-type water heater.
Long-Lasting: A tankless water heater can last for many years with the proper maintenance.
CONS:
Higher cost: A tankless water heater is more expensive than most tank-type models.
Multiple demand limitations. Taking a shower while washing clothes or dishes can create larger demand for hot water than the tankless heater can supply. Household members need to understand the limitations of their tankless heater.
BOTTOM LINE: Is your house empty during the day, or for consecutive days when people are away? If so, you're a good candidate for an upgrade to a tankless water heater. Instead of paying to heat and reheat water in a tank-type water heater 24/7, your tankless water heater consumes almost no energy in standby mode. You only use energy (and spend money) when you need hot water. Contact us today for your free estimate in Westchester County including Peekskill, Ossining, Yonkers, White Plains, Verplanck, Somers, Yorktown Heights, Bedford, Croton On Hudson, Cortlandt Manor, and surrounding cities and towns.
Looking for a price? Get a no cost, no obligation free estimate.